---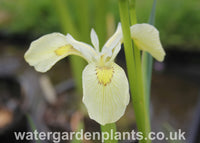 Approximate height: 105cm (42 inches) 

Recommended water depth over crown of plant: 0 - 15cm (0 - 6 inches)

Flowering time: May to June

Flower colour: Yellow/Cream

Supplied in the 1 litre pot we grow them in - for best results we recommend potting on using a 3 - 4 litre pot
This is a lovely variety of our native yellow flag iris. It has blooms that are not actually white but a gorgeous soft yellow, with cream standards (inner petals) and delicate markings. Like the wild form, this is an easy plant to grow, with the typical long mid-green iris leaves and flowers which are attractive to bees.
Please note that all irises may cause skin irritation and are somewhat poisonous if eaten.
If designing a planting scheme, we recommend approximately 1 Iris pseudacorus 'Alba' plant per square foot of ground or per linear foot of pond edge. Read more here on how to pot and care for your plant.