---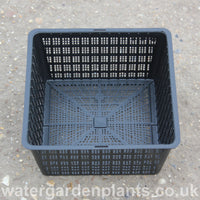 Small Square Fine Mesh Plant Basket (18cm x 18cm square, 9cm high / 7 inches x 7 inches square, 3½ inches high); holds approximately 2 litres of soil.
This small square plant crate is very shallow, with a wide footprint for its height. It is useful if you require a basket that is very stable and difficult to knock over, or if you have a shallow shelf where the top of other baskets would poke out of the water. It is also good for creeping marginal plants (such as Water Speedwell, Water Mint, or Marsh Pennywort) which like a wide surface area but only need a shallow root depth. 
Its capacity makes it suitable for small to medium marginals and miniature or small waterlilies but please note - most of our plants are grown in pots which are taller than this basket and would protrude above it. Therefore we don't recommend it to pot on our plants where we suggest a 2-litre pot. If in doubt whether one of our plants would fit in this pot just ask us.